In practice as a chiropractor in Victoria since 1998, Dr. Mark Strudwick has treated individuals from 3 weeks of age up to 92 years young for a variety of conditions. Sports injuries and athletic performance are of special interest, so he has taken the opportunity over the years to further his education in that area. This has led to work at numerous local, national and international competitions from the Ironman Triathlon World Championships, World Curling Championships, The Pan Am Games to the FIFA Under-20 Soccer World Cup.
He was the event chiropractor for the New Balance 1/2 Iron Triathlon held annually in Victoria from 1998-2006 and also worked as chiropractor and trainer for the Victoria United Soccer Club of the Pacific Coast Soccer League (PCSL) from 2006-2008, a league of elite amateur players.
Educating the public about the benefits of chiropractic, as well as other health issues, is something that Dr. Mark feels is important, so he has written numerous articles for Victoria's "Moss Rock Review" and has been published at www.livestrong.com as a means of achieving this goal.
In addition to private practice, Dr. Mark was the Orthopedic Pathology instructor at the Victoria campus of the West Coast College of Massage Therapy from 2010-2019 teaching future registered massage therapists about the world of bone and joint pathology.
In his spare time Dr. Mark is busy with his two children, but also finds time to be on a soccer team and to continue his love of languages – studying Spanish and German.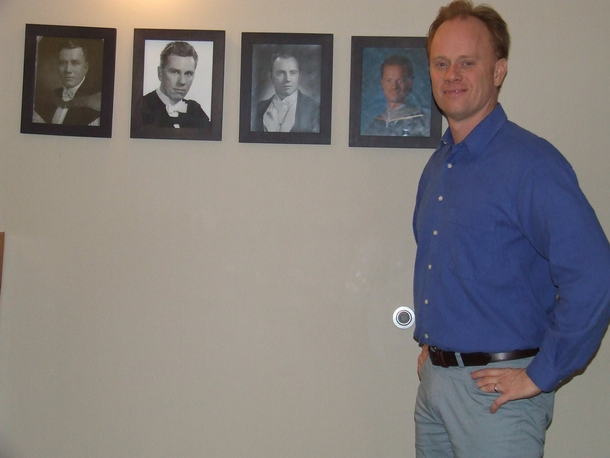 Of great pride to Dr. Mark is his family heritage of chiropractic. After leaving the navy, his grandfather, Dr. Alfred, entered chiropractic college and practiced first in New Brunswick in the 1920's before moving to Enderby, B.C. in 1932 and worked until the mid-fifties.
His uncle, Dr. Murray, was a member of all 3 armed forces prior to studying chiropractic. He first practiced in Chilliwack, B.C. for 2 years before moving to Sydney, Australia to spend the bulk of his career.
Dr. Mark's father, Dr. Arden, practiced initially in Chilliwack as well, then moved to Saskatchewan where he worked closely with government and helped to have chiropractic included in the provincial health care plan. He was later awarded lifetime memberships to the Chiropractic Association of Saskatchewan and the Canadian Memorial Chiropractic College.
All three were instrumental in helping build the profession in their respective regions and today's chiropractors enjoy the benefits of their work.